The Hounds & Tap Tavern and Dog park
The Hangout for Hounds and Humans™
Have you ever been at a dog park or public place and thought "The only thing missing right now is a beer or glass of wine?" Us too! Our tavern space is a hangout for hounds and their humans.
With a daily or monthly dog membership, hounds can play year-round in an off-leash indoor or outdoor dog park while you relax with friends. (Humans 16+, don't worry! Whether you have a dog or not, you can enter for free!)
So come have a drink with your furry friend, watch the game, relax and meet other dog lovers … just like you!
For the Hounds:
A membership dog park that is safe, clean and supervised by our trained humans? Yes — that's right! Our team provides an extra pair of eyes to ensure safe and fun playtime.
Our indoor space is over 2,500 sq ft. We have separate large and small dog off-leash areas. Or … maybe you just need a break from the action and want to take it easy on leash with your human at the bar.
Head outdoors to 5,500 sq ft of open air and covered patio areas. Get your sniff on in our K9Grass® area or romp on the play equipment with your pals. We'll break out the pools in summer so you can splash to your hearts content.
Dog membership has its perks! All hounds are checked for vaccines so you can have peace of mind that you are hanging out with healthy hound friends. We'll make sure fresh water is always on hand and clean-up supplies are always at the ready!
Dog Membership Details
Day Pass: $10
(+ $5 per additional dog)
Monthly Pass: $30
(+ $15 per additional dog)
Free, unlimited entry to the tavern & park during bar hours.
Passes are non-transferable and automatically renew monthly unless canceled with 30-day notice.
All dogs must show proof of vaccinations (Rabies, Distemper/Parvo & Bordetella) and be spayed or neutered if over 6 months of age.
For the Humans:
Looking for a beer, wine or fun cocktail? Or maybe water or soda? We've got it!
We have tv's inside and out so you won't miss the game while your hound plays. Use our free wi-fi so you can share your adventures with your friends and followers online. Who doesn't love seeing cute dog pics?
Hungry? Grab a bite from a local food truck. We've got a lineup you'll love.
All humans 16+ are welcome! Whether you own a dog or not, all dog-loving humans may enter for free.
Self-Serve Wash & Dry
Want to take your hound home clean and fresh?
You can shampoo and blow dry your best buddy in our fully equipped space. If you need assistance look for one of our staff. We will be more than happy to show you how to use the equipment. Grab one of our 20 minute time slots and … best of all — leave the clean-up for us!
Our self-serve bath and drying room is fully equipped with:
Elevated dog wash station
Your choice of shampoo
Fluffy towels and blow dryer
Water-proof apron
Pricing:
$20 Single Dog Wash
Buy 5 Dog Washes, Get 6th Wash Free!
Have additional questions? Please visit our FAQ's
Tavern & Dog Park
Monday – Tuesday CLOSED
Wednesday – Friday 4pm – 9pm
Saturday 12pm – 9pm
Sunday 12pm – 6pm
Self-Serve Dog Wash
Monday – Tuesday 4pm – 6:30pm
Wednesday – Friday 4pm – 8pm
Saturday 12pm – 8pm
Sunday 12pm – 5pm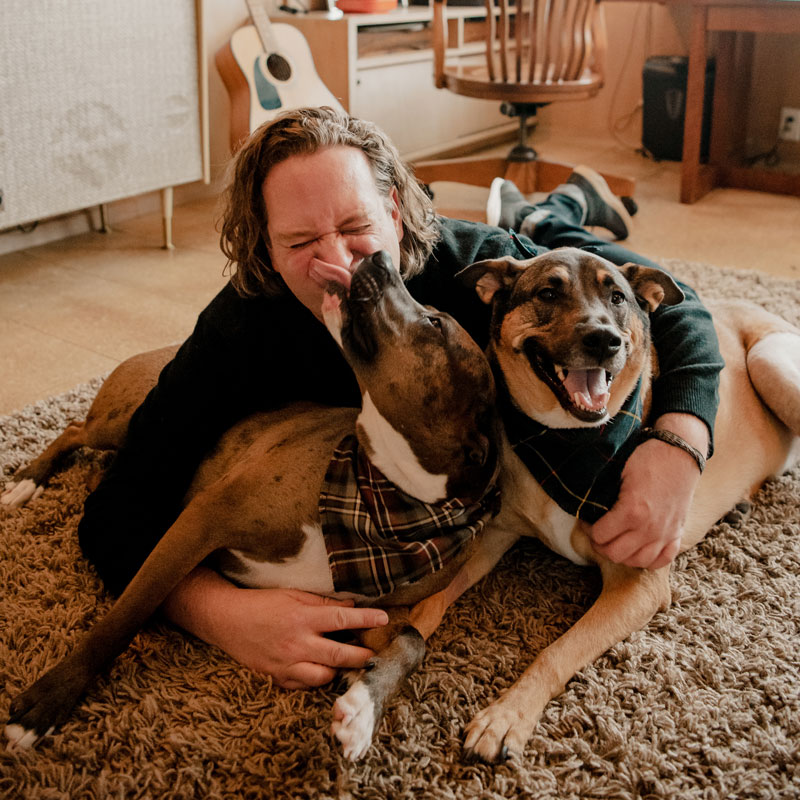 Ready to hangout?
We'd love for you to join us! Check out our quick tips and park rules so that all hounds and humans can enjoy themselves and remain safe at The Hounds & Tap.
If you want to hangout with us here is a quick checklist of what to do next:
Create an account online
Set up your hound's profile
Upload your proof of vaccinations
Add credit card information
Check in when you arrive … Come Hang!
Hangout with us!
You must be 16+ to come and play. We love human kiddos, but to make sure everyone stays safe, only four-legged hound kids are allowed.
Prior to arrival, we strongly recommend registering online. This will ensure a quick and easy entry. You can register your dog, upload vaccine records, sign a liability waiver and purchase a pass. When you arrive for the first time, just check in and let the fun begin!
If you do not sign-up using our online portal, please bring copies of your dog's vaccine records with you. Our staff will help you register, scan in your vaccine records, and sign our liability waiver.
Day Pass customers are encouraged to use the portal for quick and easy entry.
Rules for Hounds
Registered in our system.
Up-to-date on Vaccinations:

Proof of vaccinations: Rabies, Canine Distemper/Parvo (DHPP) and Kennel Cough (Bordetella)
Puppies must be at least 16 weeks old and fully vaccinated for DHPP and Bordetella (Note that puppies less than five months old will need to receive their rabies vaccine by five months of age to continue coming to The Hounds & Tap)

Spayed or Neutered (if over 6 months of age).
Free from fleas & ticks.
Must wear a flat quick-release collar (no prong, pinch, electric, chain, or choke collars).
Hound & Human friendly.
On leash when entering and exiting the tavern & dog park.
Bullying, cornering, fighting, excessive snarling, mounting, biting, bleeding or excessive barking means it's time to head home.
Rules for Humans
Two dogs maximum per person.
No outside drinks, glass containers, dog toys, or treats.
No smoking. Second-hand smoke and cigarette butts are hazardous to Hounds & Humans!
When entering and exiting, only open one gate at a time. Be careful not to allow other dogs or people to enter or exit with you.
You are solely responsible for your dog/s while on the premises. While our humans are trained to help supervise, you are responsible for watching your dog, cleaning up after your dog, and ensuring they do not cause damage to the property.
If your dog shows any signs of aggression, they must be leashed and immediately removed from the park. It's always better to be safe than sorry!
In accordance with Menomonee Falls Village ordinance, if your dog is barking excessively, we will ask you to leash your dog and take them inside or head home.  We want to be good neighbors to the surrounding businesses and home owners!
You are responsible if your dog causes any damage or harm to another person or their property.
You cannot leave your dog unattended and you cannot leave the property without your dog.
Humans must retain possession of their dog's leash and personal belongings. The Hounds & Tap is not responsible for lost items.
By entering the tavern & park, you permit our Humans to redirect any inappropriate hound behavior including handling your dog and breaking up any scuffles that may occur.
The Hounds & Tap staff and management have the right to refuse service to any Hound or Human for any reason. The Hounds & Tap is not responsible for any injury, illness or damage caused on our premises.
Failure to comply with the above Rules will result in revocation of membership.