Dog Grooming Services
Life gets messy and let's be honest, so do our dogs! We have the most up-to-date grooming equipment and professionally-trained staff to take care of your dog's needs. We can do it all – from pedicures to full spa treatments, leave the pampering to us!
Just like humans, each hound is unique. Our loving and affectionate groomers will individualize your dog's spa experience based on his/her size, breed, coat and needs. The price, just like your pup, is personalized. Our team will meet with you at drop off to discuss your preferences and provide a time estimate prior to services.
Most of our services require scheduling in advance. Don't worry – it's really easy! Either give us a call or sign up today!
Create an account online
Set up your hound's profile
Upload your vaccination records
Use our online booking to request appointments on the go!
Please note:
1) The process of de-matting is painful and stressful.  We are a positive-reinforcement, force-free facility.  Therefore, we will NOT de-matt a dog.
2) If a customer misses an appointment without prior notification, prepayment must be made to confirm a future appointment.
Our Pricing:
Packages:
Signature Bath: $40 & Up (includes bath, blow dry, nail trim and ear cleaning)*
Specialized Groom: $55 & Up (signature bath plus personalized trim & cut)*
A La Carte:
Nail Trim: $15
Dremel Nail Trim: $20
Ear Cleaning: $10
Teeth Brushing: $10
Deshed Treatment: $15 (can be added to signature or specialized packages)
* Our experienced groomers charge $65 per hour.  Time & price is determined by size, coat & temperament.
Self-Serve Dog Wash & Dry
Prefer to wash your hound yourself?
You can shampoo and blow dry your best buddy in our fully equipped space. If you need assistance look for one of our staff. We will be more than happy to show you how to use the equipment. Grab one of our 20 minute time slots and … best of all – leave the clean-up for us!
Our self-serve bath and drying room is fully equipped with:
Elevated dog wash station
Your choice of shampoo and conditioner
Fluffy towels and blow dryer
Water-proof apron
Pricing:
$20 Single Dog Wash
Buy 5 Dog Washes, Get 6th Wash Free!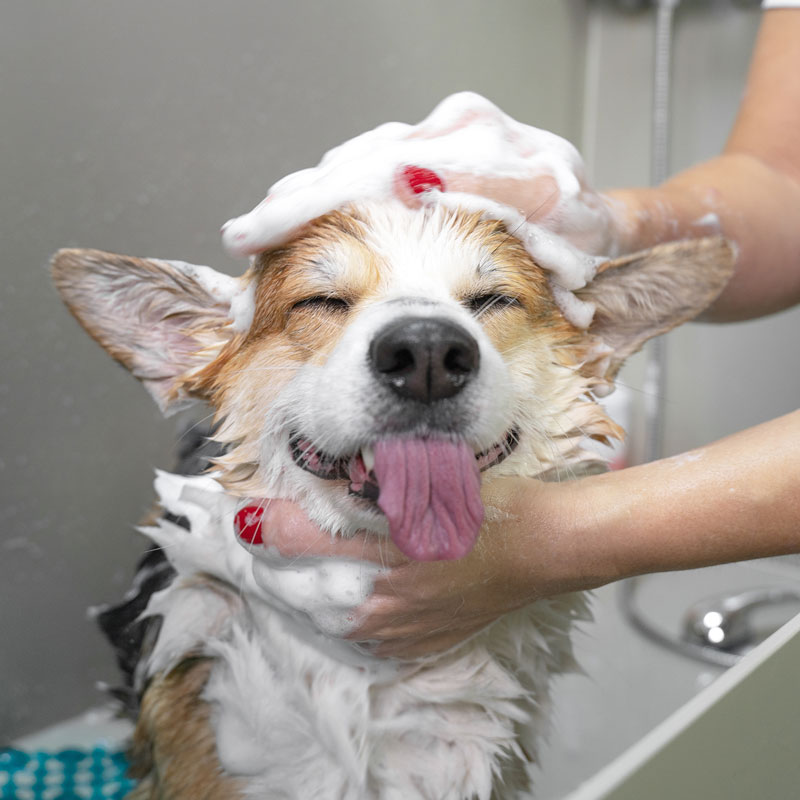 Have additional questions? Please visit our FAQ's
Professional Grooming:
by appointment only
Self-Serve Dog Wash
Monday – Tuesday 4pm – 6:30pm
Wednesday – Friday 4pm – 8pm
Saturday 12pm – 8pm
Sunday 12pm – 5pm